"I feel like I'm not out of bed yet..."
Any guess as to today's movie choice? Hint: we're continuing the series of sailor musicals.
Well, if you guessed
On the Town
(1949), then you guessed right!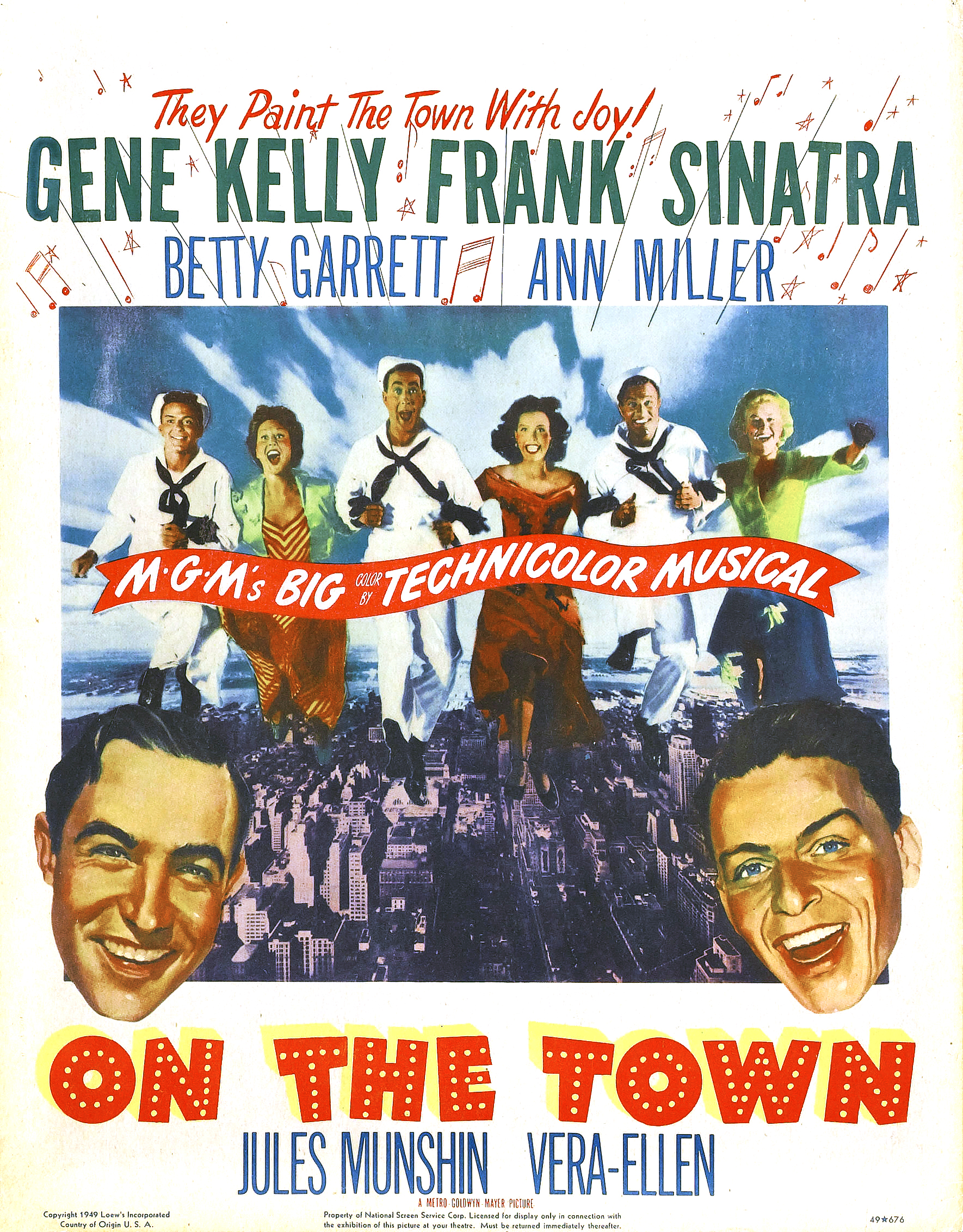 It's another Gene Kelly and Frank Sinatra musical! This time with Jules Munshin!
This movie tells the story of three sailors on leave in New York City for a single day: they want to see the sights, take out the girls, and have the best day of their lives. But will they? When Gabey (Kelly) falls in love with the subway's Miss Turnstiles, Ivy Smith (Vera Ellen), for the month of June, he and his two pals comb the town looking for her. Along the way, they meet a lovely taxi-driver (Betty Garrett) and a romantically-inclined researcher (Ann Miller). It's fun all over town as the three sailors and their girls look for Ivy Smith, find her, and then lose her again.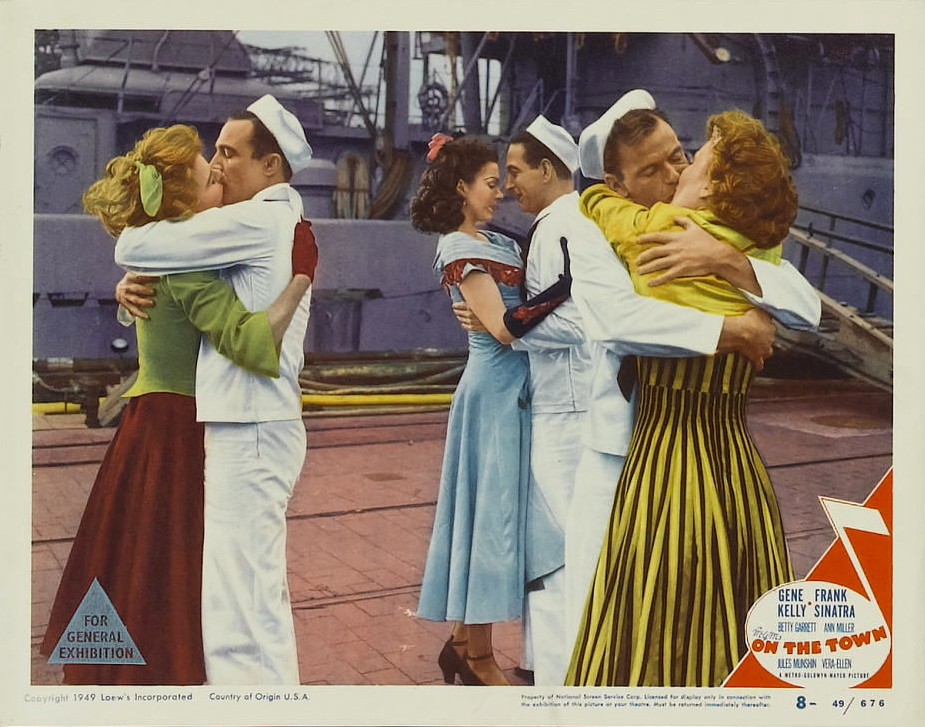 The movie was based on the play by the same name by Betty Comden and Adolph Green, who then adapted the script for the screen. Many songs were taken out and only a few from the original score remain. The beginning sequence where the three guys explore the town was all shot on location (you can see the crowds watching them at Rockefeller Center). It was the first musical to be shot on location. In the song, they look at the city from a skyscraper and Jules Munshin, who was afraid of heights, kept his hands firmly on his costars and the props around him. Another fun fact about this movie is not actually about this movie per se. In the 1953 musical
Small Town Girl
with Jane Powell and Farley Granger, a scene from this movie was recycled for the film to show the young couple enjoying the city nightlife. The movie's hard to find but if you find it, and you watch closely when they go to the nightclubs, you can see the cross-fade attempt to obscure Gene Kelly, Frank Sinatra, Jules Munshin, Ann Miller, and Betty Garrett from view. This is a little fact that I discovered all on my own! My jaw dropped a bit when I stumbled upon it.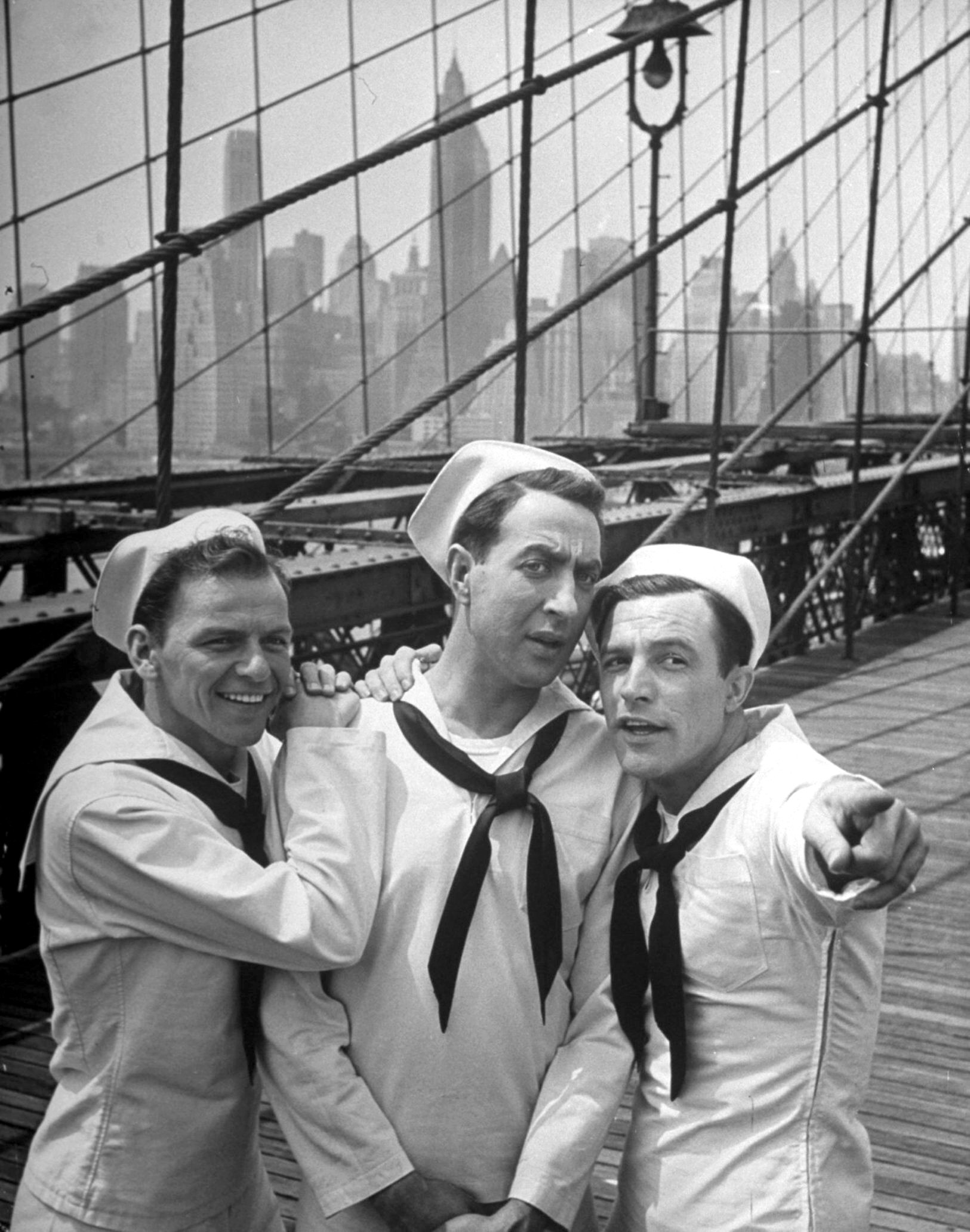 I love this movie so much! It's so funny, the songs are great, and the clothes are wonderful. I've been dying to get a version of Ann Miller's dress in "Prehistoric Man" for years! I hope you're having a good time so far with this series. We're just about done with it but I've got one more movie I'd like to share with you before I wrap it up. So stay tuned!
All the pictures in this post are from Doctor Macro. Feel free to check out my Facebook page to find more pictures, quotes, and film clips!