...but a soldier ain't so bad!
Okay, this next film in our nautical month was one of my favorites growing up. Sadly, it's relatively unknown by most people. I find that too bad because it's such a cute movie! It's a little odd - a discovery I've made only recently - but it's really fun. The movie is:
Two Girls and A Sailor
(1944)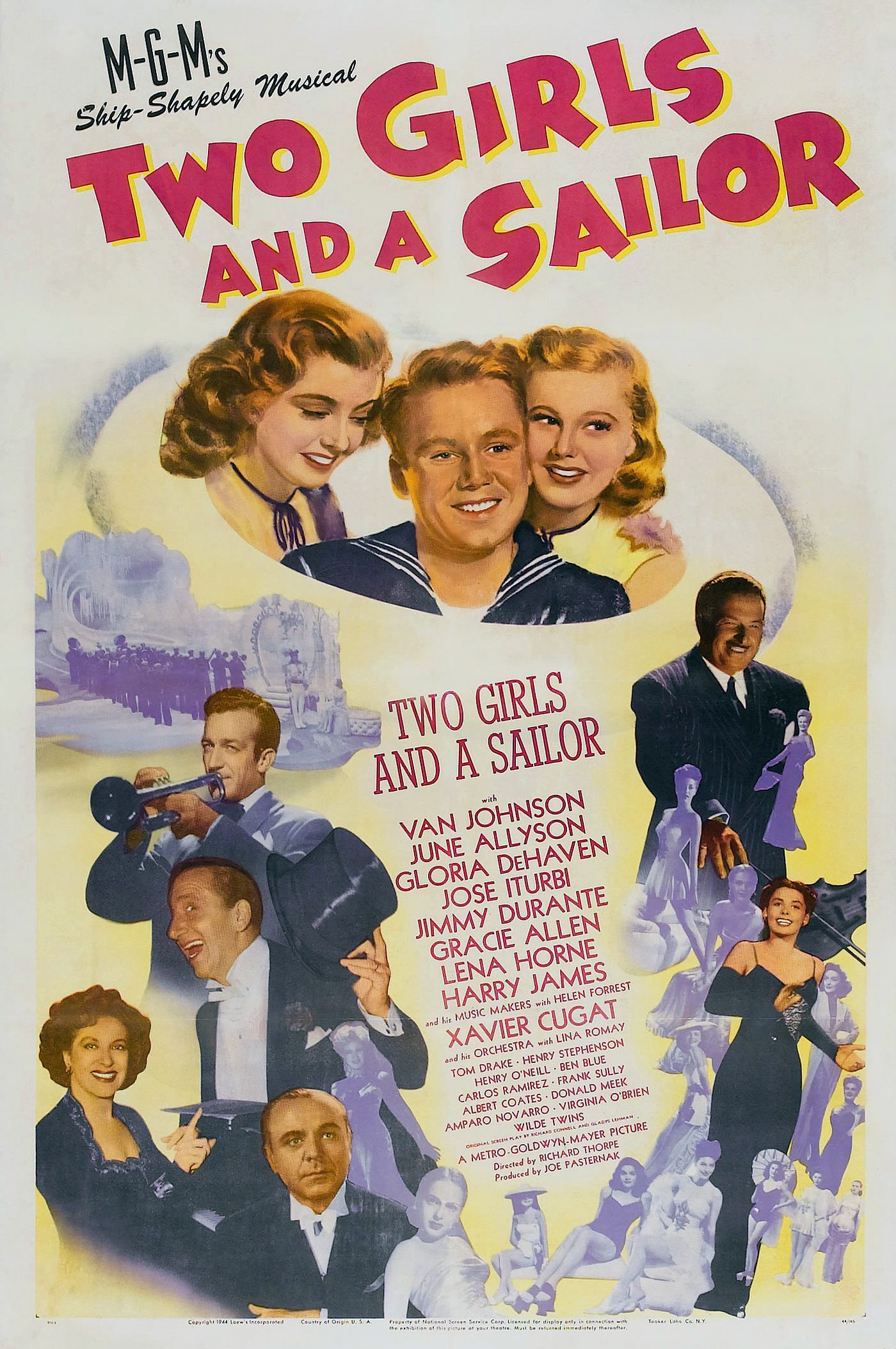 This one features June Allyson, Gloria deHaven, Van Johnson, and Jimmy Durante. Like many movies made at the time, a host of random stars make cameos throughout the film: Harry James, Jose Iturbi, Gracie Allen, Lena Horne, Xavier Cugat, Virginia O'Brien, and Ava Gardner. I had to rewatch the movie to find her. As a kid, I had no idea who she was or that she was someone famous.
The movie focuses on a pair of Vaudeville sisters, Patsy and Jean Deyo. Patsy (Allyson), the older sister, is very protective over her romantically inclined younger sister, Jean (deHaven). She constantly has to pull her out of different romantic entanglements, convinced that Jean hasn't found the right man yet. But, when Jean starts to receive orchids from a secret admirer, the two girls start to search for "Somebody." As they try to solve the mystery, they find themselves falling in love... unfortunately with the same man, a sailor named Johnny (Johnson).
It's a very fun movie and one of my favorite deHaven roles. Probably one of my favorite June Allyson roles too. But, oddly enough, their roles were originally meant to be reversed. In her autobiography, June Allyson explains about how she got the part. When June Allyson got offered the part in the film, she sought the advice of Dick Powell, who later became her husband. He read the script and advised her to pursue the role of the plain sister. He argued that no one would believe Gloria deHaven to be someone who could be out-shined and overlooked. He had a point; I think Gloria deHaven was one of the most incredibly gorgeous actresses ever. She followed his advice, won the role, and I'm pretty sure this film helped shape the rest of her movie career.
Like many '40's musicals, this one is chock-full of songs and there are some pretty amazing ones too. The selections vary from classical to big band and you're sure to find at least one that you really like. This movie was my introduction to Lena Horne, Jimmy Durante, Harry James, Tom Drake, and Van Johnson. It might have been my first time watching June Allyson and Gloria deHaven too. Oh, and some of the dresses in this one are simply divine! My sisters and I watched this movie together for years. I can't tell you how excited I was when I found it on dvd in the Warner Archives Collection! It is, sadly, pretty hard to find, but I highly recommend checking it out if you can. It's a wonderful film.
Be sure to swing by my Facebook page to see more pictures, video clips, and quotes from the film!