I watched a delightful movie a little while back and I've been dying to review it so I think I'll include it in my much neglected 100 movies list:
#38 It's Love I'm After (1937)


The movie stars Leslie Howard, Bette Davis, Olivia de Havilland, Patric Knowles. The plot is a little confusing, but here goes: Basil Underwood (Leslie Howard) and Joyce Arden (Bette Davis) have procrastinated their marriage often but when Henry Grant (Patric Knowles) arrives and asks Basil to pretend to be a cad to his fiancée, Marcia West (Olivia de Havilland), so as to end her infatuation with him. Basil, in a moment of self-conscious heroism, agrees to help. Naturally, however, Joyce does not agree with him on how heroic his help is.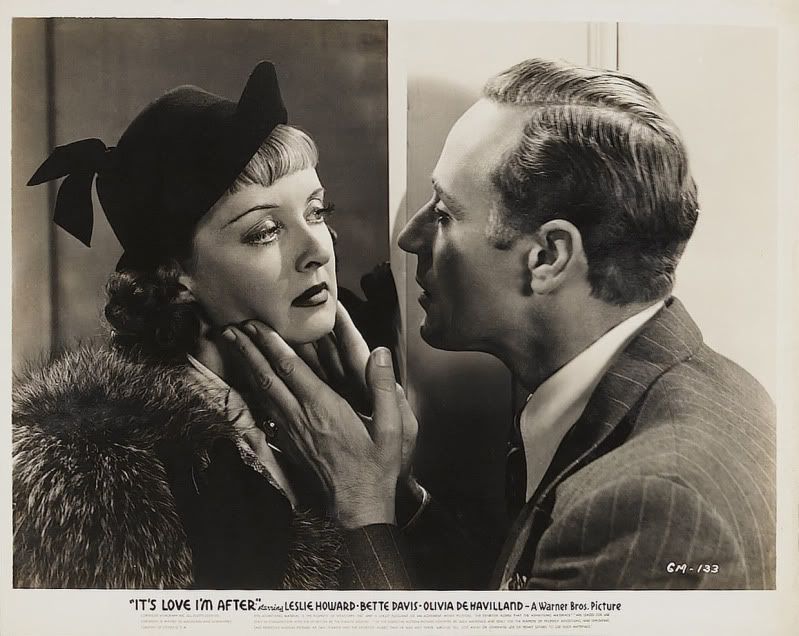 The performances were fantastic! I've always loved Leslie Howard, but have difficulty watching him because he is in so many dramas and I prefer comedy. I find him completely fascinating. He's such an amazing actor and he has this incredible intensity that I just love to watch. If anyone has any other good Leslie Howard films that are my style (you know, light and fun) other than Pygmalion and The Scarlet Pimpernel, please let me know! Anyway, I stumbled upon this movie and only five minutes in, I was smitten. Leslie Howard is side-splitting as a pompous and self-infatuated actor. Bette Davis is adorable. Olivia de Havilland has a flair for playing a madcap heiress and she's at her comedic best in this one. I adored Eric Blore. He and Leslie Howard were brilliant together. I think Patric Knowles is a grossly underrated actor and he's great again in this one. I was dying!!
It's definitely on my wishlist now. Can't wait to own it.
I tried to look up some trivia but didn't find much, other than the fact that Bette Davis resented being billed second to Leslie Howard (not surprising).

Here is one of my favorite scenes in the movie. It starts at five minutes. Feel free to skip ahead to the scene or treat yourself to the entire movie if you have the time. I intend to buy it because I'd like to reward Warner Bros for selling their archive collection by investing it. Also, the watermark is a big pain.
All of the photos in this post are from Doctor Macro.