More cleaning house! Yay! Sorry for filling up my blog with these. It feels so good to get rid of that awful
draft
next to posts, doesn't it?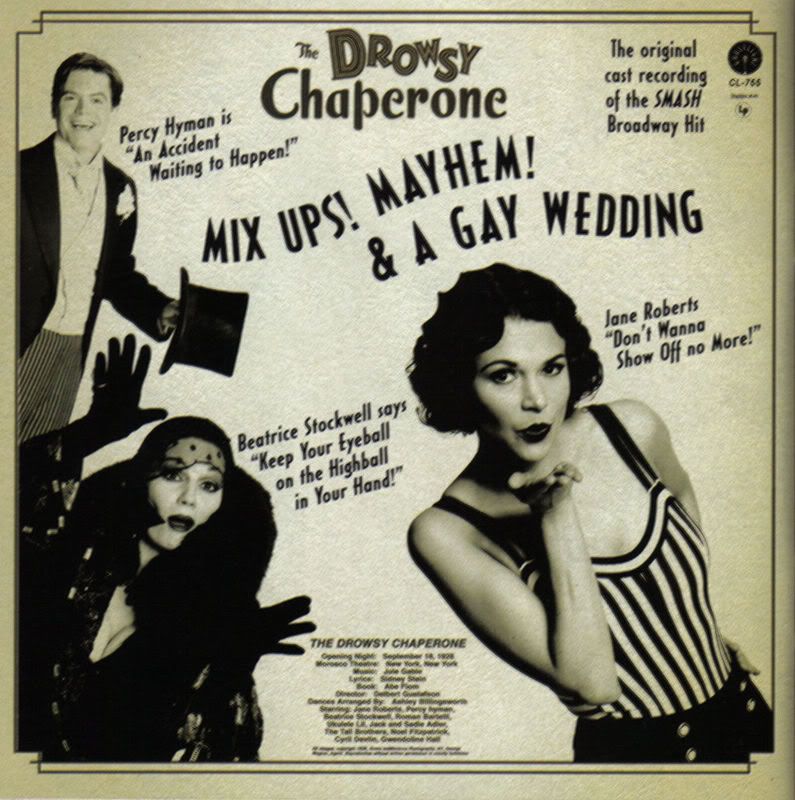 So, I'm going to go a bit off-topic today. This past week I found myself discussing Broadway shows with some of my coworkers. We ran into the topic when
The Sound of Music
came on and some of my coworkers said that they really hated that movie and then they went on about how their favorite musicals were
Les Miserables
and other equally depressing choices. I was really involved in theater when I went to high school and I fell in love with Broadway musicals. I've recently fallen out of love with them, mostly because I've discovered that a large number of Broadway shows are very angsty. There's so much trauma, drama, and hardship all of the time. As soon as I discovered this, I pretty much stopped listening to Broadway soundtracks.
That is, except one. Quite possibly my all-time favorite Broadway show:
The Drowsy Chaperone
. Now, I say 'quite possibly' because I do really like
Joseph and the Amazing Technicolor Dreamcoat, The Pirates of Penzance
, and other such musicals that have flourished on the Broadway stage. But as far as the more recent, more contemporary shows,
Drowsy Chaperone
takes the cake (for me, at least).
The reason? No angst. Okay, so there's a little bit. But it's complete tongue-in-cheek and it's absolutely ridiculous. The basic premise of the musical is this: a man (Man in Chair) is sitting at home, feeling a little blue, so he decides to listen to his records. He pulls out his favorite, "The Drowsy Chaperone" and as he listens, the musical springs to life for the audience. Man in Chair is constantly pausing and interrupting the show in order to tell the audience little bits of "trivia" about the various actors. It's fun because you think, "wow! I'm learning a lot about these people" but you know that it's all made up and that there never were such people. It's so much fun!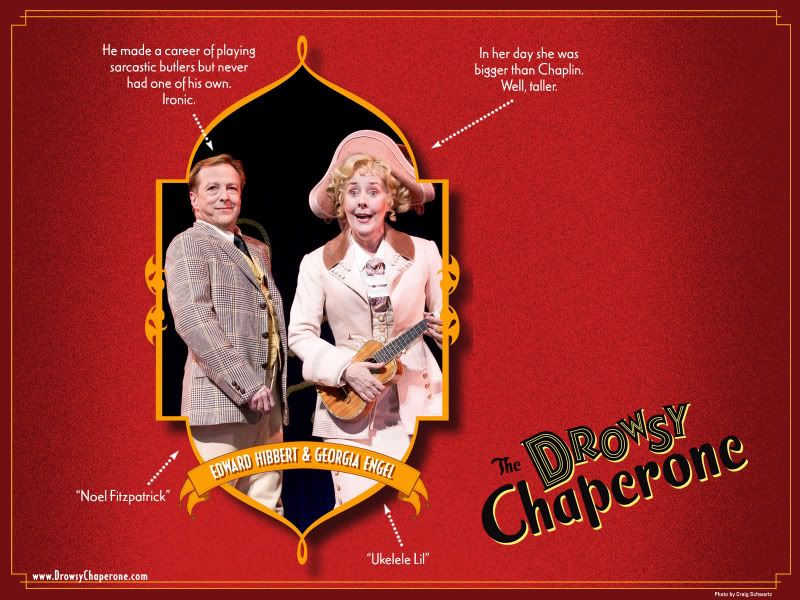 Another reason that I love this show is that it sort of pays homage to old Hollywood and old Broadway. There's a producer in the show named Mr. Feldzieg (get it? Ziegfeld? It actually took me an embarrassingly long time to notice that), there are gangsters who tap dance, a groom uses dance to solve his problems, love at first sight, and spontaneous bursting into song. It's a great deal of fun. If you happen to like Broadway shows but haven't checked this one out, I highly recommend it. It's fantastic!