I love dresses. I can spend far too many hours just looking at dresses on Modcloth, Shabby Apple, or Shop Ruche. I know I'm not alone in this. I have a hard time buying dresses, though, because a) they're expensive and b) I find them hard to wear. To me, dresses mean dressing up. I've only lately been able to get into the habit of wearing skirts in a casual setting. I actually prefer skirts now. I used to hate skirts. Now, dresses is my new difficulty. How to dress them down? If I come out of my room wearing a dress, my roommates look at me and say, "ooh! Where are you going?" No where. I know it's better to be over dressed than under dressed. But still.
So, I've been trying to get inspiration on how to wear dresses well. I look at lookbooks and blog posts. Kate Gabrielle's series of
un, deux, trois
is particularly helpful in this regard. She has so many dresses and she wears them all the time! How does she do that? She just wrote a fantastic post on wearing dresses for every day occasions.
Check it out.
I can't even imagine having a dress to wear for eating ice cream. It's brilliant! I want to be that classy! But, I really hate spending money on dresses when I know I'll only wear them for the occasional and very rare instance when I'll somewhere fancy schmancy.
For instance, I bought this cute dress from
Shabby Apple
:
I wore it to my cousin's wedding and now I don't know how to wear it. Should I cut off a tier to make it shorter? Should I put a belt on it? Wear a top over it? I originally bought the dress because it seemed so flexible in casual/dressy terms. But now I don't know how to dress it down. Any suggestions?
And then there's this dress that I'm dying to buy from
Shop Ruche
. I really don't need a dress. And I probably will continue to talk myself out of it until it's no longer available but look how cute!
I know I'd buy it and then it would sit in my closet until my birthday or a wedding or a party. What a waste.
And here's what makes it worse. I try to wear outfits that are vintage-inspired and when I look at the outfits in old movies, practically all the girls wear are dresses! This, of course, makes my fashion inspiration posts very difficult to do because the outfits are one piece: a dress. Done.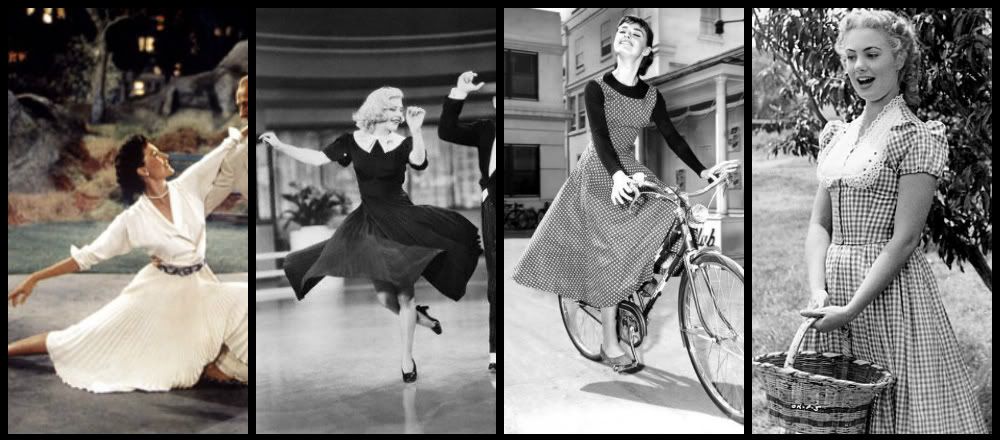 There are plenty of dresses in old musicals that are evening gowns and dinner dresses. But these are just every day type dresses: visiting someone, going to work, walking through Rome, picking apple type dresses. I think of the dress Ann Miller wears to the museum in
On the Town
, the one Marilyn Monroe wears to work in
Monkey Business
, Nora Charles' outfits in
The Thin Man
movies. I see photos from blogs like Kate Gabrielle's and think, if I wore that, people would look at me funny. But girls did it all the time back in the day and brave and classy girls do it now! I need to step it up a bit. And I need to learn how to dress down a dress. Any suggestions? Please let me know!